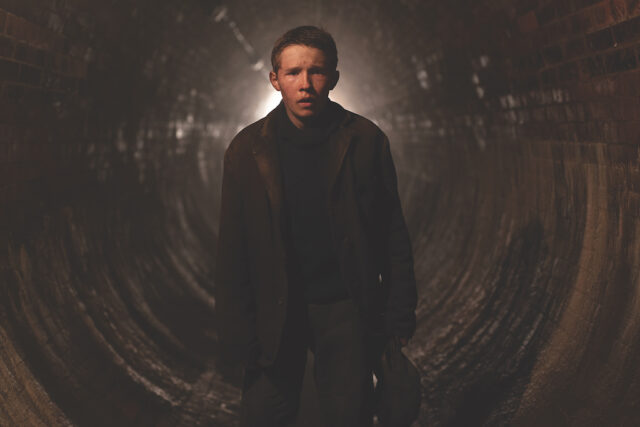 By Marisa Fox
There are many roads to recovery, but for Herbert Heller (portrayed by Stephen Lang as an adult, and Luke David Blumm as a youth), the central character in Avenue of the Giants, which is premiering at the 31st annual Hamptons International Film Festival, there was only one way to heal from the Holocaust trauma he buried—opening up to a suicidal teenager (Elsie Fisher).
The film's premise may seem fraught, but it's based on the epic, true story of the Czechoslovakia-born Heller, who survived Terezin (Theresienstadt) and Auschwitz, escaped a death march, and went into hiding in his hometown of Prague until liberation, before immigrating to America, starting a family and becoming a beloved fixture in Marin County, California, for his toy store. Heller kept his Holocaust past a secret from his own family until he was diagnosed with a terminal illness. Only then did he share testimony and start grappling with his unhealed wounds—in his case, a literal scar, the result of his attempt to burn off his Auschwitz number by using cleaning acid.
"The idea of a secret kept for 60 years isn't rare for people who have experienced such massive trauma," says writer-director Finn Taylor, who grew up in a home haunted by the ghosts of World War II. His father served in the Battle of the Bulge, and his mother survived the war in occupied Norway, losing much of her family.
"My birthday is July 4," Taylor continues. "My dad would wake up screaming [triggered by the fireworks]. Half of his platoon died; there was shelling and bombing everywhere." In addition, his uncle, Telford Taylor, was the chief counsel for 12 trials of the Nuremberg war crimes trials, indicting 200 Nazi war criminals. (Filmmaking was a family affair: Taylor's granddaughter wrote the film's poignant musical score).
"I knew it was going to be a huge legacy to pass on, so I wanted to see it happen," Taylor says, adding that he wasn't the first director approached by producer Jeanine Thomas. His script, which he spent five years researching and writing, beautifully straddles the complex balance between both lead characters' private demons and builds a bridge between the two.
"You can't equate the Holocaust with anything else," he says, "but the pain, the way young people feel that no one understands them, is something I can relate to." His semi-autobiographical directorial debut Dream with the Fishes (1997) revolves around
the intimate friendship that develops between a suicidal young adult and a terminally ill older man.
"When I was 19, I tried to kill myself," he says, speaking from his home near the majestic redwood forest where pivotal scenes were shot and from whence the film's title is derived, a reference to the seeming immortality of these titan trees that have persisted despite untold obstacles. Like the film's other protagonist, Abbey, an amalgam of the various high school students whom the real Heller helped by forging open dialogue, Taylor found healing through his intergenerational relationship and through the process of directing this film.
"I have more faith in the interconnectivity of humanity," he says. "The film is ultimately about the healing power of sharing long-held secrets."
For screening times and locations, see schedule on the following pages and hamptonsfilmfest.org for updates. Marisa Fox is writing, producing and directing My Underground Mother, a documentary about her mother's secret Holocaust past.