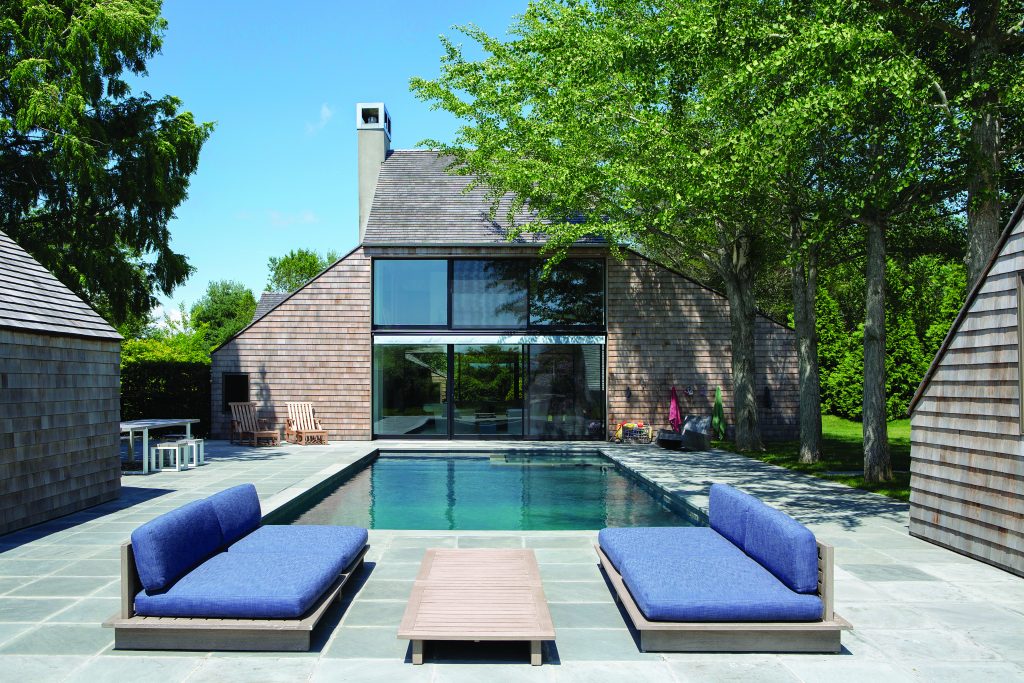 By Suzanne Gannon
A New York City native who grew up summering in Westhampton Beach, mixed-media artist and former gallery owner Conrad de Kwiatkowski, whose work is currently represented by Jeff Lincoln in Southampton, had bought property in SoHo and Williamsburg over the years. They yielded sizable returns, but they were more like investments in places he knew he would not remain in forever. In 2015, the artist turned into a Bridgehampton driveway overgrown with privet to a concealed oasis designed by architect Norman Jaffe for his wife and himself in 1980. (The popular contemporary architect, known for highly detailed office towers like 565 Fifth Avenue, lived there until his death in 1993.) Voilà, the artist searching for a dream house finally found his prize.
"I fell in love with this place the first time I saw it," says de Kwiatkowski, who didn't know the home's provenance at the time, yet noted the property's stripped-down elegance, which was typical of Jaffe in his later years, when his habitable sculptures became more spiritual.
Now he, his wife, Noemi, and their two young daughters reside in the shingled house—otherwise known as Jaffe's Sea Farm—year-round except for a quiet summer month or two on a lake in Switzerland. It sits on a 1-acre flag lot that he says feels more like 100 because it's surrounded by farms and vineyards as well as by land protected by the Peconic Land Trust. "It's a pleasure to live in," de Kwiatkowski says. "There are nuances to this place. The buildings seem to hover above the ground."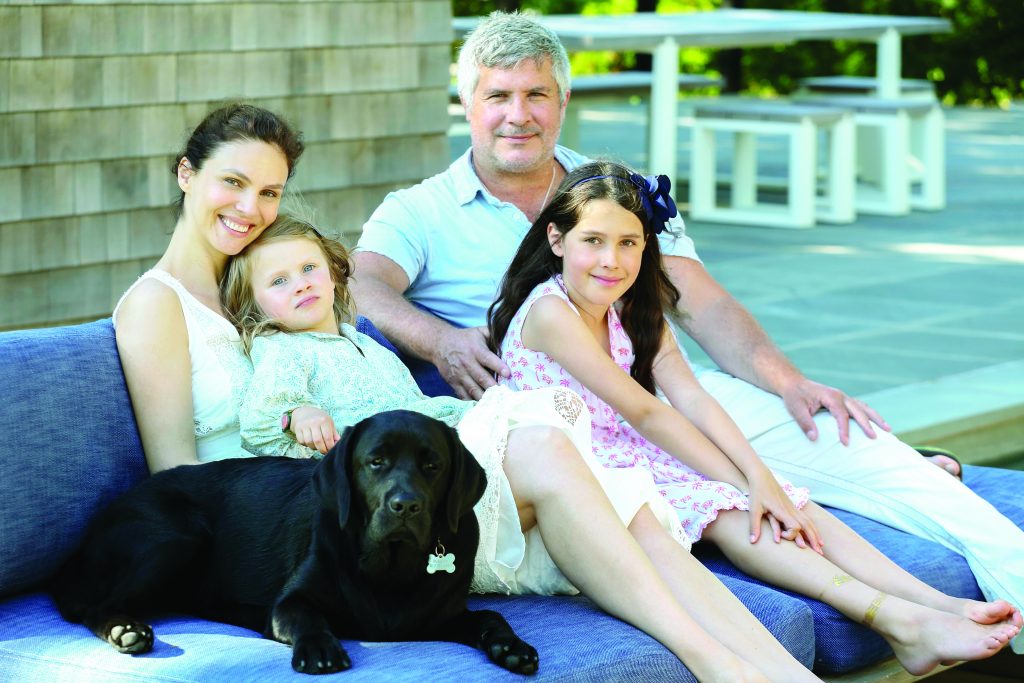 Consisting of three buildings with sharp angles and peaked roof lines that not only refer to Katsura Imperial Villa in Japan that so captivated Jaffe, but also recall the elaborately geometric Jewish Center of the Hamptons the architect designed in East Hampton in 1988, the property includes a 4,000-square-foot main house, a pool, and two studios—his own and the one used by his writer wife. Red cedar is abundant inside and out; interior walls are few and far between; glass is plentiful in strategic locations; and ceilings reach heavenward with skylights and exposed beams that lend definition.
Because its summer residents had allowed the home to develop an aura of abandonment strangled in wisteria, the artist embarked on a restorative update with a light touch: a planting of the family's roots, he calls it. "It was important to keep the innate integrity that drew me to buy it," de Kwiatkowski says. He leveled out the floors, which had included steps to various platforms. He finished the living room walls and ceiling in a Venetian plaster, which is dappled for much of the day with sunlight reflecting off the pool, aided by the large windows he installed. He and his wife took the lead in enhancing landscaping with Jaffe's beloved Japanese tea house in mind, supplementing Dawn redwoods and gingkos with Japanese maples, hinoki cypresses, Norway spruces, beeches, bamboo, junipers, holly and roses. They elongated the pool and finished it in a deep blue gunite reminiscent of the Mediterranean.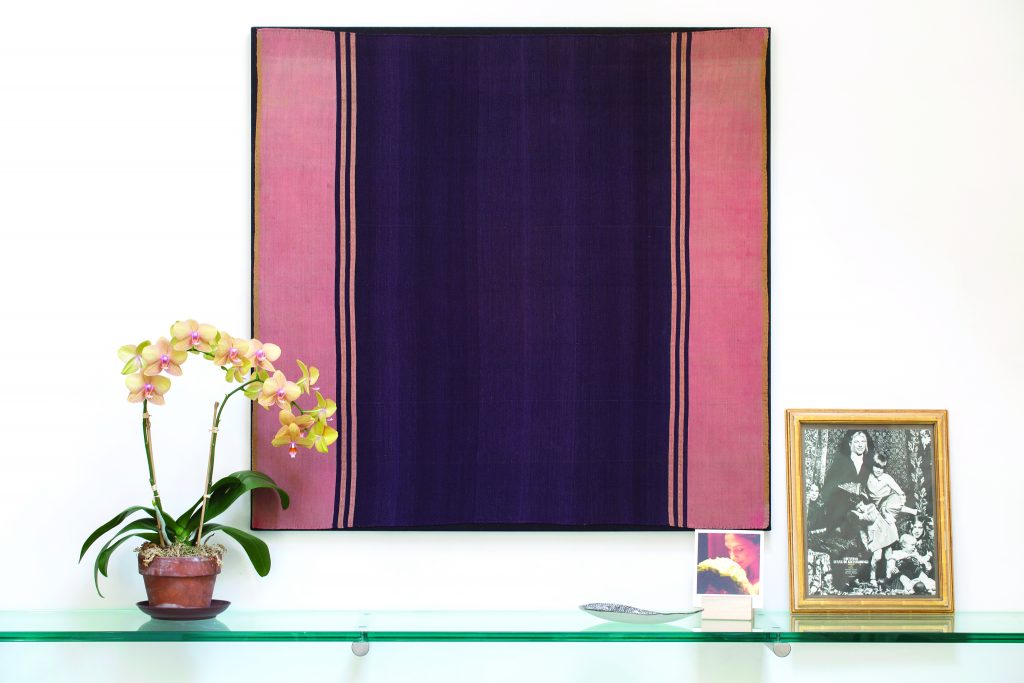 The addition to the property that holds the most meaning for him, though, may be the 14-ton granite stone he purchased for his wife to mark their eighth wedding anniversary. Lowered by crane onto a spot in the front yard under a cut-leaf maple near the pool, it's a symbol, he says, of the fact that he's not going anywhere.
De Kwiatkowski's new homestead makes a flattering gallery for his art. As in his approach to architecture and interiors, he's a self-proclaimed minimalist who searches for objects that are rare.
His experiments include unusually colored sea glass and stones he finds during walks on the beach and later documents in monolithic mixes of sculpture and photography. And there is the Kennedy half-dollar he once placed on a railroad track—where it was flattened by a oncoming train, leaving only the image of the slain president and the word "GOD." He wears it around his neck.
"I like my work to carry me, so I do exactly what I'm good at," he says. "When you keep it that simple, magical things occur."
"How we ended up here, in Norman Jaffe's last home, is nothing but serendipitous," says the artist, who adds that the Polish heritage he shares with the architect makes them look like distant relatives. "[Jaffe] created inspiring spaces and now I feel it's up to me to keep his creative spirit alive, at least in our humble home at Sea Farm."