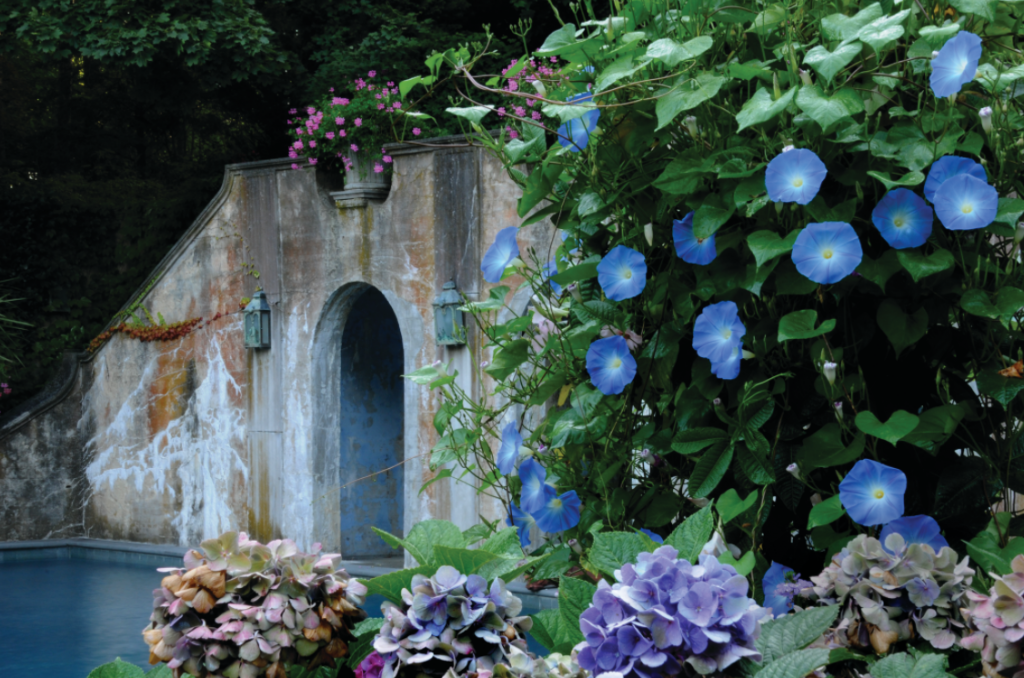 By Hilary Sterne
Long before the Japanese practice of "forest bathing" started trending on Twitter, Roxine Brown was discovering the restorative benefits of taking a walk in the woods. "It was always my place to go when I needed to think things through," says Brown of her days as a child spent hiking the nature trails of San Francisco's East Bay.
Brown, who comes from a long line of serious gardeners, at age 31 moved to New York, where she worked in the fashion industry for such labels as Liz Claiborne, Halston and The Limited, designing women's clothing. But she yearned to reconnect with the outdoors, and eventually she and her husband bought a shingled two-story house in East Hampton, nestled in a towering white pine forest.
She designed the home to be "as if the outdoors were brought into the indoor living space"—white on white, with lots of windows and vaulted ceilings that allow for a lovely interplay of light. Outdoors, she planted a bamboo grove beyond the lower deck, soothing blue hydrangea and Japanese maples in the upper pool area, vivid lavender rhododendron along the outskirts of the property and white Annabelle and Oakleaf hydrangea throughout. A magnificent, 25'-tall Weeping Beech provides a restful green wall between the front of her property and the back, which features a Koi pond, a pool, and Japanese maples. Brown took on a couple of freelance gardening projects during her stays out east and before long, she realized she'd found her vocation. She launched her landscape design business, Harmonia, Inc., in 2003.
What distinguishes her lush, free-flowing designs is how organically they fit in with the surroundings. A Harmonia garden "feels very much like it just came from nature," Brown says, "not that it was put there by a human being." And when conceiving of outdoor spaces for clients, she chooses specimens and palettes that both echo the natural backdrop and help set just the right mood. For a client looking to resurrect a Japanese-style shade garden, restful green ferns and evergreens were the perfect choice. On a walkway to a tennis court on another client's property, red dahlias and pink and orange zinnias convey a sense of energy.
It's not just colors in nature that she believes can affect us profoundly. "There are definitely benefits from even the oxygen around us from plant materials. It affects us physically," she says. Indeed, recent studies indicate that essential oils emitted by trees seem to lower blood pressure. "Just even the smell of the air" can work wonders, says Brown. "I remember the first five years we had a home out here, we commuted every weekend. On the way in, I'd reach a point just prior to the pine barrens on Route 27 where everything smelled different. And that's when I felt everything let go. The stress just dropped off."
A book Brown often gives as a gift, Behaving As If The God in All Life Mattered, posits that the bond between humans and the natural world is deep and resonant. "There is an extraordinary intelligence inherent in all forms of nature…All we have to do is decide we want to hear it," writes author Machaelle Small Wright. Brown not only hears that restorative message loud and clear, she creates serene spaces that let others tune into it as well.